Details
| | |
| --- | --- |
| Country | Panama |
| Farm | Los Lajones |
| Varietal | Arabica Gesha / Geisha |
| Processing | Anaerobic Natural |
| Crop | March 2022 |
| Partnership | Relationship Coffee |
| Coffee type | Wholebean |
| Taste | Jasmine, green tea, tropical fruits |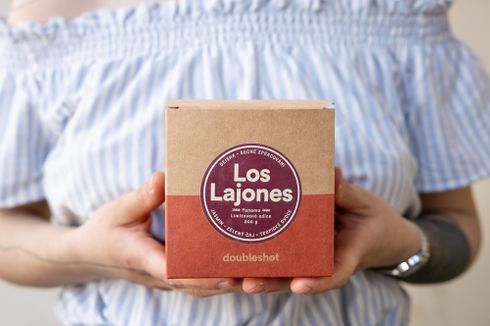 Our very first coffee
Thirteen years ago when we opened our roastery, it was coffee from the Los Lajones farm we roasted as our very first coffee. That is why we have a special place in our hearts for these beans. Especially for this Geisha variety.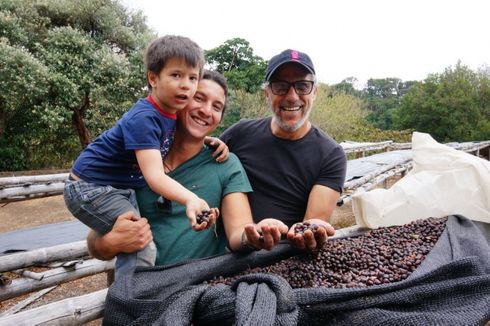 Graciano Cruz
Graciano is a world wide known coffee producer. Alongside his own coffee farms he has been part of various projects in Ethiopia, Peru, Taiwan and Brazil. He is a great supporter of eco farming and natural processing.
The gem of Graciano Cruz
Los Lajones is situated at the altitude of 1800-2000masl. It is one of the highest positioned farms in the Central America.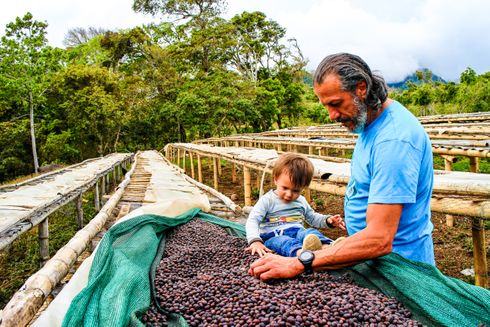 Anaerobic and natural processing
This lot was produced by combining anaerobic and natural processing. First, Graciano puts all freshly picked cherries into plastic barrels. Then he fills the barrels with the juice he has got from the previous batch. He lets the cherries ferment like this for 5-7 days while he occasionally rolls the barrels over. After this unique fermentation is finished he spreads the cherries on plastic carpets called "lona" (instead of standard African beds) and lets them dry for 15-20 days (the time of drying depends on the weather).
The result? Anaerobic and natural processing comes through in creamy body and more pronounced fruitness.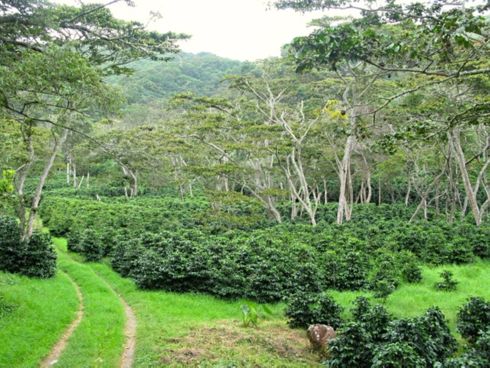 Sustainability is No.1
Los Lajones is the first bio certified farm in Panama. There is no water used for processing coffee cherries. Most cherry pickers are members of ethnic group called Ngöbe-Buglé. They get paid about 25% more money then it is usual in Panama.
Bamboo Geisha coffee trees grow in the original rain forest in the shade of bamboo trees in the highest located part of the farm (2000-2100masl).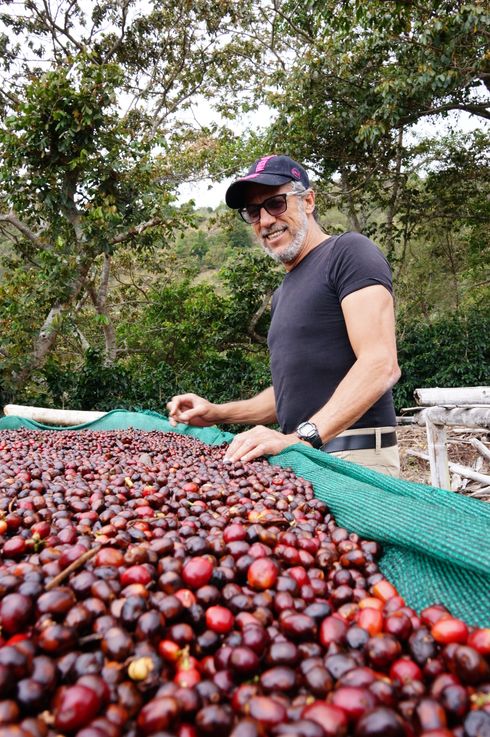 The story of Geisha
If you would like to taste something very extraordinary with a unique profile you have to try this Geisha from Panama. This coffee has great taste and story. The variety got to Panama through Tanzania and Costa Rica. In 50s it was grown for its resistance to leaf rust in these coutnries. It is unknown till today where does it originally come from. Allegedly it carries the name after a village called Gesha in Ethiopia.

In 2004 Danile Peterson, the owner of Hacienda La Esmeralda discovered this amazing coffee during his regular cupping. It scored the highest. The Petersons´ family decided to grow this variety seperately form the rest of varietes. They organised the very first online auction of this coffee. Geisha has changed the world of coffee since then....
We highly recommend to drink this coffee as filter coffee.
Interesting reading about Geisha.